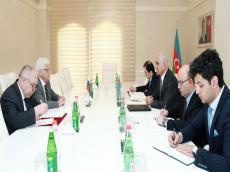 By Azernews
By Sara Israfilbayova
Russia is one of the key trade partners of Azerbaijan and ranks 1st in the import of non-oil products from Azerbaijan.
Azerbaijani Economy Minister, co-chairman of the Azerbaijani-Russian intergovernmental commission Shahin Mustafayev made the remarks at a meeting with the Russian Ambassador to Azerbaijan Mikhail Bocharnikov on July 7.
The minister congratulated the diplomat on his appointment as ambassador to Azerbaijan and stressed that the Azerbaijani-Russian relations are at the level of strategic cooperation, the country attaches great importance to cooperation with Russia.
Opening of the "Azerbaijan Business Center" in Astrakhan was an important step in expanding ties between the entrepreneurs of the two countries, according to the minister.
The minister noted that relations between the countries are developing not only in the sphere of economy, but also in the sphere of energy, agriculture, trade, pharmaceuticals, tourism, etc, adding that there is a huge potential between the countries for further development of relations and expansion of cooperation.
Noting the role of the Azerbaijani-Russian intergovernmental commission in expanding bilateral relations, Shahin Mustafayev recalled that the 17th meeting of the intergovernmental commission is scheduled for the end of this year.
The Ambassador, in turn, expressed satisfaction with his appointment to this post and noted that he will spare no effort to develop relations between the two countries in all spheres of cooperation.
The sides exchanged views on the prospects for expanding economic ties and discussed some aspects of the organization of the 9th Azerbaijan-Russia Interregional Forum to be held in Ganja this September.
Azerbaijan is one of the main economic partners of Russia among the CIS countries. Interregional cooperation plays an important role in the development of Russian-Azerbaijani trade and economic relations and the increase in trade turnover.
Azerbaijan's first trade representative was appointed to Russia.
Trade representative's main mission is to take measures to expand Azerbaijan's economic and trade relations with Russia, protect economic interests of Azerbaijan, increase export of Azerbaijani goods and services, promote Azerbaijan's business environment and investment opportunities.
Azerbaijan seeks to open Trade House in Russia's Arkhangelsk region as well.
Currently, about 760 Russian companies are implementing their activities in Azerbaijan. Azerbaijan has invested more than $1 billion in the Russian economy, and Russia, in turn, about $4 billion in the Azerbaijani economy.
Azerbaijan's trade turnover with Russia amounted to $2.14 billion in 2017, about $1.5 billion of which accounted for the import of Russian products to Azerbaijan, according to the State Customs Committee of Azerbaijan.