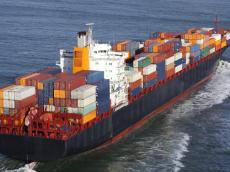 By  Trend
Exemption from transportation fee of empty wagons returning from the Baku International Sea Trade Port to Uzbekistan could positively affect the expansion of trade turnover between Azerbaijan and Uzbekistan, Babur Rakhimov, marketing manager of the Uzbek-Chinese company Ekoklimat , told Trend.
"The company began to export Uzbek products to Azerbaijan in 2017, where, despite the tough competition, it finds a buyer," he added.
"However, big transportation fees affect the tangible increase in trade turnover between our countries," Rakhimov said. "Due to the existing requirement in the Baku port to collect fees not only for the carriage of full wagons, but also for empty wagons [for their return to the ports of Turkmenbashi or Aktau], our goods are shipped by vehicles bypassing the Caspian Sea, which affects the cost of Uzbek products in the Azerbaijani market."
He added that Ekoklimat shipped nearly five trucks to Azerbaijan in 2017, while it would be much more convenient to transport goods from Uzbekistan through ports.
"However, such issues are not resolved at the level of individual companies," Rakhimov said. "Appropriate intergovernmental and interministerial negotiations should be carried out to grant certain benefits."
Charging for empty train cars is a common international practice, because regardless of congestion, vessels use port's infrastructure, territory, its communal and other services. At the same time, tariffs of the Baku International Sea Trade Port are among the most competitive across the Caspian Sea states.
"The current level of trade and economic relations is not satisfactory," Azerbaijan's Ambassador to Uzbekistan Huseyn Guliyev said in an exclusive interview with Trend earlier.
In 2017, trade turnover between the two countries amounted to $31.2 million, of which $26.2 million accounted for exports of Uzbekistan's goods and only $4.9 million accounted for imports, he said.
"To expand cooperation, both sides should intensify efforts to fully use the existing potential."
The Uzbek-Chinese joint venture Ekoklimat was established in April 2015. Its plant was put into operation in the Jizzakh free economic zone in September 2016 to produce high-tech heat and sound insulation fiberglass in accordance with the order of the Cabinet of Ministers of Uzbekistan, which became the first plant producing such products in Central Asia and the Caucasus. The company's products are produced under the Ecover brand name.
Ekoklimat's customers are such companies as Enter Engineering, Hyundai Engineering, Trust 12, etc.
The company's products were used during the construction of the Novo-Angren thermal power plant and the LT Textile International joint venture.