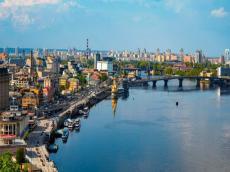 By Azernews
By Sara Israfilbayova
Azerbaijan's next Trade House will appear in the Ukrainian capital Kyiv on June 22.
A delegation headed by Azerbaijani Minister of Economy Shahin Mustafayev will attend the opening ceremony in Ukraine, that will bring together members of the governments of the two countries, businessmen and public representatives.
It will come as Azerbaijan's third Trade House abroad. The country's first ever Trade House was opened in the Belarus capital Minsk, on May 26.
Moreover, Azerbaijan has a Trade House in Latvia, which was registered at the end of 2017.
The country eyes to open Trade Houses in such countries as China, the UAE, Netherlands, Kazakhstan and others.
President Aliyev signed a relevant decree on January 26, and endorsed the economy minister to appoint trade representatives to the country's diplomatic missions abroad and open trade houses.
Trade houses in foreign countries will facilitate the export process, promote an export of competitive Azerbaijani production and enable the countries to expand trade operations.
As of today, 92 trademarks of Azerbaijan are protected under the 'Made in Azerbaijan' brand, while the country's total outputs nears 250 kinds of products in food, light, heavy and construction industries. The brand is highly successful in regional and world markets, as Azerbaijan's local output meets all the necessary standards.
Azerbaijan is considered one of the main trade partners of Ukraine among the CIS countries.
Main goods imported from Ukraine to Azerbaijan remains as mainly metallurgy products, machine building products, agro-industrial products, and chemical industry products. While main goods exported from Azerbaijan to Ukraine are generally products of fuel energy industry, chemical industry products, and agro-industrial products.
According to the Azerbaijani State Customs Committee, trade turnover between Azerbaijan and Ukraine amounted to $304.8 million in January-May 2018, of which over $144 million accounted for the export of Azerbaijani products to Ukraine.
The trade turnover between the countries increased by 36.5 percent for the year.