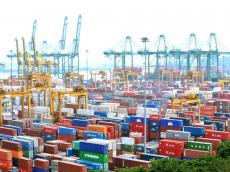 By  Trend
Vietnam hopes to increase trade with Azerbaijan, as well as volume of bilateral investments, Minister of Industry and Trade of the country Tran Tuan Anh told reporters June 20.
"During the meeting of the Intergovernmental Commission in Baku, we discussed the development of cooperation in a number of areas of mutual interest. This includes both energy and other areas, such as processing industry, IT technologies, education, and transport. In particular, we agreed to accelerate cooperation in the sphere of maritime transport. I am sure that the development of our relations will accelerate in the near future. In particular, it is necessary to increase the trade turnover, as well as to increase the volume of mutual investments, which today is $300 million. This indicator is not bad, but there is a potential to increase it," he said.
Azerbaijan and Vietnam have signed the protocol of the second meeting of the joint Intergovernmental Commission on economic, trade, scientific and technical cooperation in Baku on June 20.
The document covers cooperation in a number of areas, including trade, investment, energy, agriculture, transport, communications, and high technologies.
According to the data of the State Customs Committee of Azerbaijan, the trade turnover with Vietnam in January-April 2018 amounted to $15.86 million. The export of Azerbaijani products to Vietnam amounted to about $630,000. During the year, the trade turnover between the two countries increased by 65.2 percent.