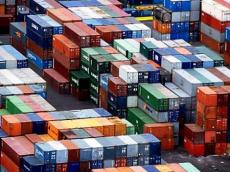 By Azernews
By Sara Israfilbayova
In January-April of 2018, Azerbaijan's non-oil export increased by 19.3 percent in January-April 2018, as compared to the same period last year.
Deputy Economy Minister Rufat Mammadov said at a press conference that the growth of 12.9 percent was observed in the export of agricultural products, exports of industrial products increased by 23.65 percent.
During the reporting period, the number of business entities engaged in foreign economic activity increased by 33.6 percent and their number reached 8,979.
The nomenclature of exported products has also increased - up to 1,936 species, according to Mammadov.
"Azerbaijan has a great export potential, and the results demonstrate that the work is bearing fruit. I believe that this positive trend will continue until the end of this year," the deputy minister said.
Azerbaijan's foreign trade turnover amounted to $22.59 billion in 2017, according to the State Customs Committee of Azerbaijan.
Exports for the year totaled $13.81 billion, imports - $8.78 billion.
In the structure of exports, the bulk fell to export of oil (77.52 percent), oil products (2.46 percent), natural gas (8.64 percent), electricity (0.37 percent), fruits and vegetables (3.64 percent), tea (0,07 percent), vegetable and animal oils (0,12 percent), sugar (0,29 percent), alcoholic and non-alcoholic products (0,16 percent), chemical products (0,58 percent), plastics and products of which (0.73 percent), cotton (0.24 percent), cotton fiber (0.12 percent), ferrous metals (0.6 percent), aluminum (0.85 percent) , other (3.61 percent).