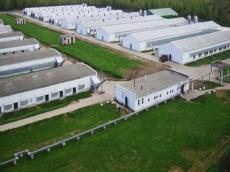 By  Trend
In 2018, 15 agricultural parks will start operating in Azerbaijan.
The remarks were made during the the meeting of the country's Ministry of Economy stated May 22 during an extended meeting.
"Currently, work is underway to create agricultural parks, which are of particular importance in strengthening food security. At the moment, work is underway to create 45 agricultural parks in 30 regions of the country. The first stage of work have been completed in three of these agricultural parks, and in general, 15 agricultural parks will be commissioned in 2018," the ministry said.
During the meeting, instructions were given to the relevant structures of the ministry to continue studying the possibilities of creating large farms and agricultural parks in other areas.
It was noted that over the past period of 2018, the National Fund for Entrepreneurship Support under the Ministry of Economy issued 397 loans to entrepreneurs by using repaid loans, the total cost of projects of which is 371 million manats, as well as soft loans in the amount of 64.4 million manats. Around 69 percent of these loans fell on the agricultural sector and 31 percent accounted for industry and other sectors. As much as 92 percent of the granted loans fell on the regions. In 2018, at least 170 million manats worth preferential loans will be issued to entrepreneurs by using the returned funds. In general, to date, state concessional loans in the amount of 2.2 billion manats have been issued to more than 35,000 entrepreneurs. One billion manats of these loans fall to the share of the state budget, and the other part to the share of returned loans.