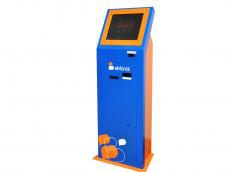 By Trend
Utility payments in Azerbaijan's Nakhchivan Autonomous Republic are now integrated into eManat payment terminals of Modenis company, the company told Trend.
The option allows residents of Nakhchivan to pay for electricity, water, gas, internet services, mobile communication, said the company.
Currently, the total number of eManat terminals is 2,200 units. Over 160 payment services are provided in the terminal network.
The eManat terminals are designed to pay for utilities, telephone services, internet, cable TV, bank loans, etc. They are installed in public places (business centers, waiting rooms, railway stations and airports, shopping centers and supermarkets).
Currently, the payment terminal market of Azerbaijan also includes e-GovPay, MilliON, ExpressPay, ASAN Odenis, Easypay, Pulpay devices and payment terminals of the International Bank of Azerbaijan.