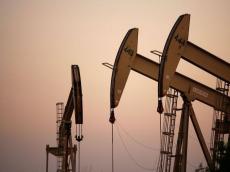 By Azernews
By Sara Israfilbayova
World oil prices are rising against the backdrop of the OPEC May report on oil reserves and the persistence of concerns about the level of production in Iran.
Brent crude futures, the international benchmark for oil prices, were at $78.30 per barrel up 7 cents from their last close and not far off a three-and-a-half year high of $78.53 a barrel reached the previous session, U.S. West Texas Intermediate (WTI) crude futures were at $71.02 a barrel, up 6 cents and also not far off their November 2014 high of $71.89 a barrel reached last week, Reuters reported.
Investors also drew attention to statements by Saudi Energy Minister Khalid Al-Falih about their readiness to ensure the stability of the oil market after the U.S. decision to withdraw from the nuclear deal with Iran. Nevertheless, investors fear that sanctions against Iran will lead to a reduction in the oil supply.
Earlier, Minister of Oil and Gas of Oman Mohammed bin Hamad Al Rumhi stated that oil is still far from $100. He noted that the oil market still has an excess of supply, although the market is close to achieving a balance.
Nevertheless, investors are concerned about reduction in the supply of oil on the market after the introduction of Washington sanctions against Tehran.
U.S. President Donald Trump announced the dissolution of the nuclear deal with Iran and promised to impose tough sanctions against Tehran. The deal was reached in July 2015 between Iran, Russia, the United States, Great Britain, China, France and Germany - the agreement guarantees the peaceful nature of Tehran's nuclear program, and its implementation removes the sanctions imposed by the UN Security Council, the United States and the European Union.
OPEC and non-OPEC producers reached an agreement in December 2016 to curtail oil output jointly and ease a global glut after more than two years of low prices. OPEC agreed to slash the output by 1.2 million barrels per day from January 1.
Non-OPEC oil producers such as Azerbaijan, Bahrain, Brunei, Equatorial Guinea, Kazakhstan, Malaysia, Mexico, Oman, Russia, Sudan, and South Sudan agreed to reduce output by 558,000 barrels per day starting from January 1, 2017.
OPEC and its partners decided to extend its production cuts till the end of 2018 in Vienna on November 30, as the oil cartel and its allies step up their attempt to end a three-year supply glut that has savaged crude prices and the global energy industry.