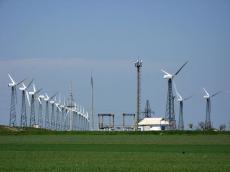 By  Trend
It is planned to complete the repair and reconstruction work on wind power plants in Azerbaijan in August, head of Azerishig OJSC Baba Rzayev wrote in his article published in the "Azerbaijan" newspaper.
Rzayev noted that as a result of the taken measures, technical losses in regional power grids decreased by 11.4 percent, while in Baku it fall by 7.8 percent, amounting to 9.6 percent for Azerishig as a whole.
The effectiveness of collection of fees for consumed electricity amounted to 87 percent on regional grids, while this figure stood at 99 percent in Baku and 93 percent in general for Azerishig OJSC.
Payment of cost of the purchased electricity to Azerenerji OJSC, as well as tax and other payments to the budget were provided for 100 percent.
Rzayev said that 60 percent of the work on the White City project was completed, and a large and most modern distribution network was created.
"To meet the needs of numerous residential buildings that will be built around Fizuli square and in the territory called Sovetskaya, as well as in the territories adjacent to this part of the city (including the part called Kubinka), as well as social and road infrastructure, it is planned to build one substation with a capacity of 110/35/10 kV and to lay an electric cable with voltage of 110 KV between the Yasamal-1 substation and the future new substation," Rzayev said.
He also emphasized that to improve the electricity supply of the people residing in the near-border areas, and other infrastructure in Terter, Gazakh and Jabrayil districts, a number of substations will be built. Moreover, he added that the construction of one substation in Terter district is currently underway.