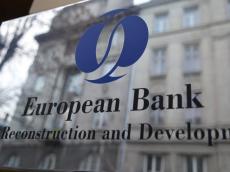 By Azernews
By Kamila Aliyeva
The European Bank for Reconstruction and Development (EBRD) has updated its forecast for Azerbaijan's economic growth for 2018, the bank's report said.
The bank increased its forecasts for Azerbaijan's GDP growth from 2 percent to 2.5 percent for 2018. At the same time, EBRD analysts forecast a 3.5 percent increase in Azerbaijan's GDP for 2019.
The bank noted a general improvement in the economic conditions in Azerbaijan.
Economic growth in Azerbaijan accelerated to 2.3 percent year-on-year in the first quarter of 2018, driven by a 2.9 percent year-on-year growth in non-oil GDP, according to the report.
Inflation fell from 12.9 percent in 2017 to 4 percent year-on-year in the first quarter of 2018, paving the way for monetary policy relaxation, the report said.
The Central Bank of Azerbaijan (CBA) has recently lowered the refinancing rate two times from 15 percent in February 2018 to 11 percent in April 2018. The current account switched from a deficit in 2016 to a surplus of 4.1 percent of GDP in 2017.
Official foreign exchange reserves of the CBA increased from $4 billion in December 2016 to $5.5 billion in March 2018, according to the EBRD.
"As of the first quarter of 2018, the combined assets of the State Oil Fund of Azerbaijan (SOFAZ) and of the foreign exchange reserves of the CBA stood at $43.1 billion, which is approximately equivalent to the country's 2017 GDP," the report said.
As for the region as a whole, the economies of countries of Eastern Europe and the Caucasus will continue to grow in 2018 and 2019, according to the EBRD. This is while the average growth will accelerate from 2.3 percent to three percent in 2018 and to 3.3 percent in 2019.
The EBRD is an international financial institution founded in 1991. As a multilateral developmental investment bank, the EBRD uses investment as a tool to build market economies. Azerbaijan has been cooperating with the EBRD since 1992.
The number of EBRD projects in Azerbaijan was 47. Since the end of last year, the bank completed the implementation of three projects in the country.
In total, the EBRD allocated about 2.8 billion euros to Azerbaijan for implementation of 165 projects since 1992. The portfolio of active projects as of late February 2018 amounted to 1.418 billion euros, which is 20.6 percent higher than the figure in late 2017.
Almost half of the EBRD active portfolio in Azerbaijan - 700 million euros or 49.4 percent fell on energy projects, 42.4 percent or 601 million euros - infrastructure projects, 5.2 percent (73 million euros) - projects in the sphere of industry, commerce and agribusiness. Another 3.17 percent (45 million euros) accounted for projects on financial institutions.