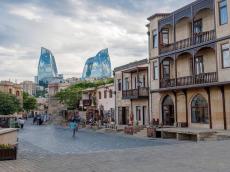 By Azernews
By Sara Israfilbayova
Tourism in Azerbaijan is developing rapidly, and to support the flow of foreign visitors, comprehensive activities are carried out. Thanks to the activities, the number of tourists in Azerbaijan keeps increasing.
One of such steps can be set an agreement on cooperation between Azerbaijani and Chinese tourist companies with the support of the National Tourism Propaganda Bureau under the Ministry of Culture and Tourism of Azerbaijan.
The companies, specializing in health tourism are eager to attract 2,000 more tourists per year on the basis of this agreement.
The Chinese experts, who investigate local market, stress that their citizens will mostly like Naftalan.
Tour packages will cover 12 days and during this period, Chinese people will visit Baku and Naftalan.
The National Tourism Propaganda Bureau considers the Chinese market to be one of the priority for attracting tourists. Since last year, the tourism potential of Azerbaijan has been more actively promoted in this country.
In general in 2017, 2.7 million tourists visited Azerbaijan, which is 20 percent more than the indicator of 2016, 10,250 of which were Chinese citizens.
Besides tourism, trade and economic contacts occupy a significant place in bilateral relations between China and Azerbaijan. The process of interaction between the two countries was marked by constant tendencies of expansion and strengthening of cooperation.
The cooperation between China and Azerbaijan strongly contributes to the realization of the Great Silk road program.
The Great Silk Road is a general name of a caravan road, which has been the main two-way trading bridge of East and West since the 3rd century BC up to now. The Great Silk Road starts in Japan and China stretches up to Europe cutting through India, Afghanistan, Iran, Central Asia, Caucasus, Asia Minor, Northern Africa including connecting Indian Ocean, Chinese sea, Japanese sea, Red sea, Caspian sea, Black sea, Azov sea and Mediterranean sea.
The trade turnover between Azerbaijan and China amounted to $1.2 billion in 2017.