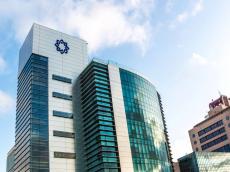 By  Trend
The process of privatization of the International Bank of Azerbaijan (IBA) requires some preparation, Azerbaijan's Finance Minister Samir Sharifov told reporters in Baku April 11.
"We have already completed the process of the bank's recovery and restructuring of toxic assets that are on the IBA balance. The completion of this process increased the relevance of the bank's privatization. But at the same time, the IBA's privatization requires some preparation," noted the minister.
Sharifov assessed the bank's financial state as stable.
"The bank will issue its audited financial statement for 2017, and everyone will be sure that the bank has become a profitable financial institution. This means that we can start preparing the bank for privatization. This is a long process. We need to consider several options and choose one of them. After that, the relevant state bodies, and first of all, the State Committee on Property Issues, which deals with privatization processes, as well as the bank's management and other state structures, will deal with this issue," added the official.
The minister also added that the IBA's privatization will not affect the activity of the processing center Azericard, which is a subsidiary of the bank.
This structure will continue to operate, he added.
The International Bank of Azerbaijan was founded in 1992. On July 15, 2015 the President of Azerbaijan Ilham Aliyev has signed a decree on the measures for rehabilitation related to the preparations for privatizing the state-owned shares of the International Bank of Azerbaijan JSC.
The shortcomings in the management, investment and loan policy of the International Bank of Azerbaijan in recent years, as well as financing of less efficient, risky investment projects worsened the bank's financial state, caused increase in the share of distressed assets and reduced its liquidity, said the decree.
In order to overcome the current situation, restore the bank's financial position and ensure its sustainability, the distressed assets of the bank were transferred to the state-owned Aqrarkredit CJSC non-banking credit organization. Bonds for three billion manat were issued under the state guarantee to ensure IBA's liquidity instead.