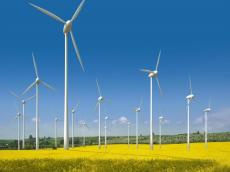 By Azernews
By Kamila Aliyeva
Constantly increasing demand for energy, environmental pollution and disasters occurring while producing traditional energy have pushed the world towards using renewable energy resources.
Therefore, Azerbaijan aims to do everything to ensure the development of this area and make the use of renewable energy sources as widespread as possible.
Azerbaijan's State Agency for Alternative and Renewable Energy Sources will present documents to the Cabinet of Ministers in order to attract private investments in the construction of wind power plants in the country, the Agency's Deputy Head Jamil Malikov told Trend.
"As part of the strategic roadmap for the development of public services by 2020, wind power plants with a capacity of 350 megawatts should be built in Azerbaijan. Today it is necessary to solve the issue under which conditions and in which forms we will be able to attract private investments, both local and foreign," he noted.
Malikov said that the necessary documents should be prepared and submitted to the government in order to start attracting investments by 2020 and start the construction.
"The government should adopt legislative and regulatory documents that will create conditions for attracting investments in this sphere, making it attractive for investors. They, in particular, cover tariffs and guarantee contracts for the supply of electricity," he added.
In recent years, the development of renewable energy sources in Azerbaijan, the largest South Caucasus state on the Caspian shore, has been in the focus of attention.
Today, the country is able to fully meet its own energy needs, and seeks to supply power to the European market.
Azerbaijan was able to build a strong power system in less than 20 years, conducting reconstruction and renovation of old generating capacities and creating new ones.
The energy rich country generates power through hydroelectric, wind and solar power plants, as well as biogas installations. Currently, the capacity of Azerbaijan's electricity system exceeds 12,000 megawatt. The total potential of renewable energy sources exceeds 25,300 megawatt.
A major part of the country's capacity in this area accounts for solar energy, while it's potential is estimated at 5,000 megawatts. Some 4,500 megawatts accounts for wind power, 1,500 megawatts -- for biomass, 800 megawatts -- for geothermal energy, and the remaining 350 megawatts -- for the small hydro power plants (HPP).
In January 2013, Azerbaijan announced the plan to raise investments in alternative energy by over $7 billion by 2020, and increase total renewable capacity to 2,000 MW or 20 percent of the nation's overall power needs.
To export surplus electricity, Azerbaijan eyes several major projects, including the Energy Bridge Azerbaijan-Georgia-Turkey, which will allow Azerbaijan to export to Europe about 700 MW of electricity a year.