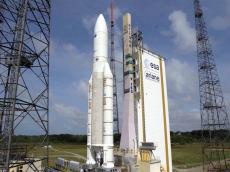 By  Trend
The launch of Azerspace-2/Intelsat 38, the second telecommunications satellite of Azerbaijan, is scheduled for May 25, France's Arianespace company, which will send the satellite into the orbit, said April 6.
The satellite will be delivered into orbit by the Ariane 5 ECA launch vehicle from the Guiana Space Center, which is located in the northeast of South America, in French Guiana.
Along with the Azerbaijani satellite, the Ariane 5 ECA launch vehicle will simultaneously deliver the Indian GSAT-11 communication satellite.
Azerspace-2/Intelsat-38 will be placed in a geostationary orbit 45 degrees east longitude. The zone of its service will include the countries of Europe, Central and South Asia, the Middle East and Africa.
The satellite's manufacturer is Space Systems Loral (SSL), which is also a provider of satellite control systems.