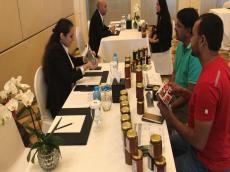 By  Trend
The canned products of the Azerbaijani company Brightman BMC will be exported to the UAE and Bangladesh, the Azerbaijani Ministry of Economy reported on December 5.
Brightman BMC has reached a preliminary agreement on this issue with the networks of Al-maya and Lulu markets, as well as with Al-Ghamdi trading. The agreement was reached during the visit of the export mission of Azerbaijan to Dubai.
Within the framework of the mission, the Azerbaijani company Sunfood discussed with Al-maya and Lulu, as well as with the Al-Qudva network, the export of pomegranate juice and tea to the UAE, and the export of honey was mulled between Kerkom and Azeri.
The export mission of Azerbaijani entrepreneurs will be in Dubai until December 7.
The mission includes 20 Azerbaijani companies producing fruit juice, mineral water, fruit and vegetable production, dried fruits, canned foods, meat and meat products, honey, tea, milk and dairy products.
Producers of fruit and vegetable products that are part of the export mission will also participate in the largest profile exhibition WOP Dubai, which will be held on Dec.5-7.
According to the State Customs Committee of Azerbaijan, the trade turnover with the UAE for 10 months of 2017 amounted to $29.28 million, which is 2.1 times less than the same period last year. The export of Azerbaijani products to the UAE increased by 58.5 percent as compared to the end of October last year.