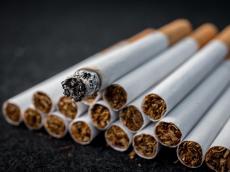 By Azernews
By Sara Israfilbayova
Smoking is common throughout the world, and getting people out of tobacco dependence today is becoming a priority for many states. Due to the fact that the problem of smoking is of a social nature, the aim of anti-smoking campaigns is to influence people's public consciousness.
Azerbaijan, with 47-percent smoking prevalence, also fights against smoking and the Parliament adopted the Law "On Restriction of the Use of Tobacco Products" on December 1.
Addressing the meeting, chairman of the Committee on Labor and Social Policy Hadi Rajabli, informed his colleagues about the bill and said that the purpose of the bill is to protect public health, promote healthy lifestyle.
"If in the previous version of the draft law employers were required to allocate special places for smoking, then in the final reading of this issue, regardless of the organizational and legal form, was given to employers' discretion. That is, they will decide whether to create such conditions or not. In addition, municipalities are given new powers to take action against the use of tobacco products. They will take steps to restrict the use of tobacco products," he said.
Along with this, tobacco producers will be able to engage in charity. So, in the bill passed in the second reading the concept of "sponsorship" and "charity" were identified. Now, the charitable activities of tobacco companies will not be limited.
In accordance with the law, smoking is forbidden throughout the territory of various educational institutions, in hotels, health care facilities, rehabilitation centers, health resorts, social facilities, theaters and cinemas, at exhibitions, reading rooms, libraries, museums and other cultural institutions, in underground and overground crossings, buses (including intercity and international), taxis, metro, air, railway, sea and river transport, bus stops, railway stations, river and sea ports, airports, elevators, common areas of multi-apartment buildings, in buildings and enterprises where flammable substances are stored, on playgrounds, beaches, workplaces of organizations, enterprises, offices, regardless of organizational and legal form and ownership.
Smoking is being prohibited as it is decreed that smokers' habits are setting a bad example to others, particularly children. Also, active smokers can estimate the harm of tobacco on their health and decide whether to smoke or not, but those who are passive smokers had no choice here and passive smoking is more harmful for human body than active smoking.
Smoking is recognized as a chronic disease and included in the "International Statistical Classification of Diseases and Related Health Problems". There are more than 25 diseases that develop or their course worsens under the influence of smoking.
Such prohibitions already exist in such countries as the U.S., Finland, Ukraine, Great Britain, Scotland, Northern Ireland, Germany, France, Belgium, Croatia, Greece, Turkey, Kazakhstan, Syria, Egypt and etc.
There are countries that are ardent opponents of smoking. For example, Finland is a pioneer in fight against smoking and smokers. All the anti-smoking legislation enact in this country since 1977, including one of the most stringent restrictions -- it is forbidden to smoke even on your own balcony - smoke can reach non-smoking neighbors.
Finland is on its' way to becoming the first country in the world to eradicate smoking. The goal is to set a smoke-free Finland by 2030.