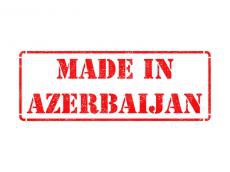 By Azernews
The next export mission to promote "Made in Azerbaijan", the brand which seeks to get a worthy place in the world market, will be held in Dubai (UAE) on December 3-7.
The fruit and vegetable producers represented in the export mission will also participate in WOP Dubai, the largest fruit and vegetable exhibition in the Middle East, to be held in Dubai on December 5-7.
Within the framework of the exhibition, there will be seminars and bilateral meetings, in which products from Azerbaijan will also be presented.
Since early 2017, Azerbaijan has already sent export missions to Qatar, Kazakhstan, Germany, Afghanistan and Pakistan.
Earlier, Vice-President of Azerbaijan Investments and Export Promotion Foundation (AZPROMO) Yusif Abdullayev said that Azerbaijan will send export missions to four countries by the end of 2017: to China`s Shanghai, Russia`s Saint Petersburg, the UAE and Saudi Arabia. 
Azerbaijan, focusing widely on an export-led growth strategy, aims to expand the list of its foreign trade partners. This year the country plans to organize some five missions to increase awareness about the local production and promote "Made in Azerbaijan" brand.
Development of the non-oil sector mainly depends on the export of non-oil products and the main goal is to expand access to new markets, besides traditional markets.
For the past nine months of this year, the export turnover of the non-oil sector amounted to $1.07 billion, which is 25 percent more than the figure for the same period last year.
Data of the Azerbaijani State Customs Committee show that the trade turnover between Azerbaijan and the UAE amounted to almost $70 million in 2016, $11.6 million of that amount accounted for the export from Azerbaijan.
The trade turnover between the countries amounted to $24.4 million in January-August 2017.
 The strategic markets for Azerbaijan are also considered to be EU, the countries of the Persian Gulf, China, the CIS countries, Turkey and Russia.
EU is one of the largest markets in the world. And, ultimately, this market is an important direction for entrepreneurs in terms of both competitive opportunities and sustainable income.
Earlier, Chairman of Centre for Economic and Social Development Vugar Bayramov told Azernews that currently, the Azerbaijani government is working to create an Azerbaijani shelf in supermarkets of the EU.