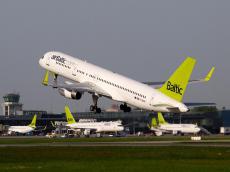 By Azernews
By Rashid Shirinov
The Latvian national airline AirBaltic has opened a representative office in Azerbaijan, newspaper Vergiler of Azerbaijani Taxes Ministry reported on November 8.
Russian citizen Andrey Larchenko is the official representative of the company.
AirBaltic is a joint stock company founded in 1995. Its main owner is the Latvian state, possessing 80.05 percent of the company's shares.
Currently, AirBaltic offers direct year-round and seasonal flights from the three capitals of the Baltic countries – Riga (Latvia), Vilnius (Lithuania) and Tallinn (Estonia). Its main hub is at Riga International Airport with further bases at Tallinn and Vilnius Airports.
The air carrier has 30 airliners in its fleet, including six Boeing 737-300, five Boeing 737-500, seven Bombardier CS300 and eight Bombardier Q400 NextGen.
AirBaltic was awarded by OAG air travel intelligence company for being the most punctual airline in the world in 2014 and 2015.
Many tourists have visited Azerbaijan, especially its capital Baku, during past years and their number increases annually. This is natural, as Baku is among the most visited cities of the CIS countries. Over the past year, Azerbaijan received over 2 million tourists. In general, for the past 10 years, the number of tourists visiting the country increased by five times.
People in Azerbaijan are well known for their hospitality, while the country's nature with its climate, beauty and uniqueness mesmerizes even the most claimant tourists. The country with rich ancient history has thousands of places to visit, ranging from the capital to the unique villages lost in the clouds.