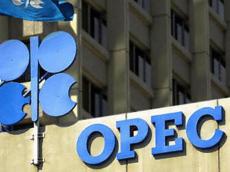 By  Trend
Long-term oil demand has been revised upward by 1.7 million barrels a day (mb/d), with total demand at over 111 mb/d by 2040, OPEC said in its World Oil Outlook (WOO) 2017.
"Total primary energy demand is set to increase by 35 percent in the period to 2040. Oil is expected to remain the fuel with the largest share in the energy mix throughout the forecast period to 2040," said the report.
However, there is no expectation for peak oil demand over the forecast period to 2040.
OPEC believes that developing countries will continue to lead demand growth, increasing by almost 24 mb/d, to reach 67 mb/d by 2040.
"Long-term demand growth comes mainly from the road transportation (5.4 mb/d), petrochemicals (3.9 mb/d) and aviation (2.9 mb/d) sectors. Oil demand in the road transportation sector is driven by the increasing car fleet in developing countries and declining oil use per vehicle in the OECD (Organization for Economic Co-operation and Development) region," said the report.
Non-OPEC liquids supply is forecast to increase from 57 mb/d in 2016 to 62 mb/d in 2022, but in the long-term non-OPEC liquids output is anticipated to see a decline, dropping to 60.4 mb/d by 2040, with US tight oil estimated to peak just after 2025, according to OPEC.
"The demand for OPEC crude is anticipated to expand to 41.4 mb/d by 2040. The share of OPEC liquids in total global liquids supply is estimated to increase to 46 percent by 2040, from 40 percent in 2016. Around half of the estimated refining capacity additions are expected in the Asia-Pacific, which is projected to add 9.5 mb/d by 2040," said the report.
OPEC forecasts that in the period to 2040, the required global oil sector investment is estimated at $10.5 trillion.