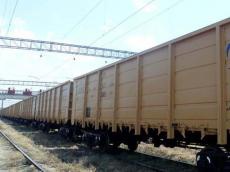 By  Trend
The commissioning of the Baku-Tbilisi-Kars (BTK) railway creates excellent opportunities for cargo transportation to Afghanistan, Azerbaijani Economy Minister Shahin Mustafayev said.
Mustafayev made the remarks at a meeting with the Afghan delegation headed by country's Finance Minister Eklil Ahmad Hakimi in Baku Nov. 7.
The Azerbaijani minister stressed that the transit of goods from Europe to Afghanistan through Azerbaijan increased five-fold in January-September 2017.
Hakimi, for his part, said Afghanistan is also interested in the BTK railway.
The preparation of legal documents and road maps is required for the development of bilateral relations in various spheres, he noted.
During the meeting, Mustafayev said that Azerbaijani companies can provide NATO-led International Security Assistance Force (ISAF) in Afghanistan with food and uniforms.
The Azerbaijani minister said that joint ventures can be established for those purposes.
Data of the Azerbaijani State Customs Committee shows that the trade turnover between Azerbaijan and Afghanistan amounted to $17.96 million in January-September 2017. Moreover, the entire amount accounted for the export of Azerbaijani products to Afghanistan.