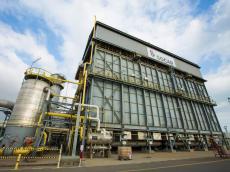 By  Trend
SOCAR Methanol LLC, the methanol plant of Azerbaijan's state oil company SOCAR, brought an income of $30.5 million to the Azerbaijani economy in the three quarters of 2017, said the company on November 6 citing a research of the Center for Analysis of Economic Reforms and Communication.
According to the company, 95 percent of the plant's products are exported.
"This is the contribution of SOCAR Methanol to the growth of national economy," says the company's message.
The plant has completely fulfilled its production plan for 2017 and produced 250,000 tons of methanol.
Production at Azerbaijan's methanol plant, the only plant of this kind in the South Caucasus and Central Asia, started in January 2014.
The plant's annual capacity is 650,000-700,000 tons. SOCAR acquired the plant from the Aqrarkredit non-bank credit organization. The plant's cost was estimated at $520 million.