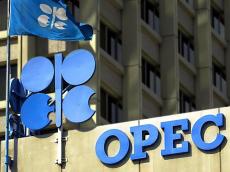 By Azernews
By Sara Israfilbayova
While world oil prices dropped on data on hydrocarbon reserves in the United States by the American Petroleum Institute (API), investors noted an unexpected increase in the volume of black gold in a week.
U.S. West Texas Intermediate (WTI) crude is down by 0.6 percent at $50.98 per barrel, meanwhile Brent crude dropped by 0.6 percent at $56.58 a barrel, according to Reuters.
API reported that over the past week, the U.S. oil reserves rose by 3.097 million barrels, thus, the total volume of black gold reserves was 468.097 million barrels. At the same time, there is a decrease in gasoline reserves in the country by 1.575 million barrels.
Currently, investors are waiting for official data from the U.S. Energy Department on oil reserves. Previously, experts assumed that during the week, oil reserves fell by 1.991 million barrels.
The Organization of Petroleum Exporting Countries (OPEC) offers the U.S. oil shale producers to join the OPEC + agreement.
Thanks to the OPEC agreement the U.S. producers increased profits this year. "If the deal takes place, almost 90 percent of market participants will support it," analysts say.
In Venezuela, an OPEC-member with huge oil reserves, an economic and political crisis is threatening production, and the government is also at loggerheads with the Trump administration.
With rising U.S. production undermining OPEC's efforts to tighten the market, inventories remain high.
Analysts believe that the oil quotations continue to be stable on the recent statements of Saudi Arabia about plans to reduce oil exports.
Earlier, the state corporation Saudi Aramco announced its intention to produce "the largest scale cuts in deliveries to customers in its history" in order to restore market balance. The reduction will be 560,000 barrels per day. At the same time, in total, Saudi Aramco plans to deliver 7.15 million barrels to customers in November per day, while demand exceeds 7.7 million barrels.
In late 2016 OPEC member countries and non-OPEC parties, such as Azerbaijan and Russia agreed to remove 1.8 million barrels a day from global oil production.
The parties decided to extend the production adjustments for a further period of nine months, in May 2017.
OPEC reported that Azerbaijan's oil supply for 2017 will decline by 0.06 million barrels per day (b/d) year-on-year.
The country's oil supply is expected to decline by 0.05 million b/d y-o-y to average 0.74 million b/d in 2018.
Output from Azerbaijan averaged 797,000 b/d in the last eight months of 2017, 40,000 b/d lower than last October, said the cartel.
Azerbaijan's participation in joint oil production cuts is defined at 35,000 barrels per day.
The next meeting of the technical committee on monitoring the implementation of the agreement on the oil production cut of OPEC+ will be held on October 20 in Vienna.