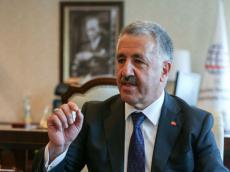 By  Trend
The Baku-Tbilisi-Kars railway (BTK) has great potential for cargo transportation, Ahmet Arslan, the minister of Transport, Maritime and Communications of Turkey, said in an exclusive interview with Trend.
The opening of the BTK railway is expected to take place on October 28.
Arslan said that freight traffic from China to such countries as Germany, France and the UK take 45-62 days. According to him, if these goods are transported to the EU countries through Turkey, it will be possible to deliver the goods within 30-45 days, which is a good reason to use the BTK.
Annual freight traffic from China to the EU countries totals about 240 million tons, he noted.
"If 10 percent of the total cargo transportation is annually delivered through Turkey to the EU countries, it will be at least 24 million tons of additional cargo," said the minister.
Arslan also noted that as part of a joint Turkey-Georgia-Azerbaijan transport commission, a decision was made in Tbilisi in 2004 on implementation of the BTK railway, the goal of which is the strengthening of cooperation among Azerbaijan, Georgia and Turkey.
"Thanks to this project, Turkey, Georgia and Azerbaijan will be connected with the Turkic-speaking countries of Central Asia, as well as with Beijing and London," he said.
According to him, with the help of BTK, it will also be possible to connect Turkmenistan and Kazakhstan with Azerbaijan through the ports of Turkmenbashi and Aktau.
After the commissioning of the BTK railway, the initial volume of cargo transportation will be 6.5 million tons, added the Turkish minister.
Freight traffic is expected to increase from 6.5 million tons to 17 million tons, and passenger traffic – from one million passengers to three million passengers until 2023, concluded Arslan.