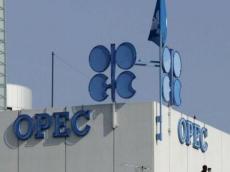 By  Trend
Venezuela has invited Egypt to join the oil output cut deal of OPEC and participating non-OPEC countries, Eulogio Del Pino, Minister of the People's Ministry of Petroleum of Venezuela wrote on Twitter.
"In Moscow, we invite Egypt to participate in the OPEC+ agreement. Market stability," he tweeted.
Moreover, Russia's Energy Minister Alexander Novak has said that Libya is also expected to join the OPEC deal.
Earlier, Russia invited Turkmenistan to join the OPEC oil output cut deal. Novak noted that Turkmenistan is not going to officially join the deal, but is ready to be an observer and take part in discussions on the current market situation.
On May 25, OPEC member countries and non-OPEC parties, Azerbaijan, Kingdom of Bahrain, Brunei Darussalam, Kazakhstan, Malaysia, Mexico, Sultanate of Oman, the Russian Federation, Republic of Sudan, and the Republic of South Sudan agreed to extend the production adjustments for a further period of nine months, with effect from July 1, 2017.
The reductions will be on the same terms as those agreed in November.