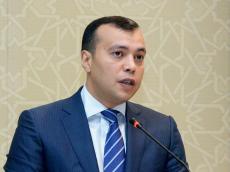 By Azernews
Stronger economic conditions are driving Azerbaijani businesses to look at international expansion and grab market share. The local businesses are looking to expand abroad in a bid to access new markets for their products and services.
The country is studying the possibility of exporting its products to markets of 34 countries, said Sahil Babayev, the Deputy Economy Minister.
"We want to not only ensure the sale of our products abroad, but also assess the future [export] potential. We received various requests from local entrepreneurs, based on which we started analyzing 34 foreign markets," he said at a press conference on September 16 in Baku.
He went on to say that ads of Azerbaijani products will be broadcast on foreign TV channels from October, adding that Azerbaijani products will also be advertised on various websites, radio and other media.
Babayev underlined that from next year it will be possible to advertise local products in Duty Free zones at international airports. Talks are underway with Azerbaijan Airlines and the state company SOCAR in this regard.
Thus, stands with products under the 'Made in Azerbaijan' brand will appear in local airports and Azerbaijani products will be sold at SOCAR's filling stations in foreign countries.
Babayev further informed that export missions were organized to China, the UAE, Germany, Pakistan, Qatar, Kazakhstan and Afghanistan within the promotion of the 'Made in Azerbaijan' brand.
As of today, 92 trademarks of Azerbaijan are protected under the 'Made in Azerbaijan' brand, while the country's total outputs nears  250 kinds of products in food, light, heavy and construction industries. The brand is highly successful in regional and world markets, and Azerbaijan's local output meets all the necessary standards.
The Economy Ministry prepared proposals to expand the list of products covered by the export promotion mechanism.
 "Together with the Exporters' Club [of Azerbaijan Export and Investment Promotion Foundation-AZPROMO] and representatives of business associations, we prepared new proposals that have already been submitted to the government," Babayev added.
The state refunds 3-6 percent of the customs value of goods to non-oil exporters within the framework of mechanisms on promoting exports of non-oil products.
About 2 million manats ($1.17 million) has been returned to Azerbaijani exporters since early 2017, as a part of the mechanism for refunding part of the costs when exporting non-oil products.
Further Babayev stressed that Azerbaijan's Economy Ministry has prepared proposals on improvement of the mechanism for suspension of business activity inspection.
"I want to note that the moratorium [on business activity inspection] has had a very positive result, as we were repeatedly told by entrepreneurs. However, we identified a number of negative cases, and decided to improve this mechanism," he noted.
Babayev said that despite the suspension of business activity inspection, entrepreneurs must maintain the quality of their products and services rendered.
"We must maintain a balance between keeping the quality of manufactured products and supporting entrepreneurship development. New proposals will consider these points," he added.
The inspection of entrepreneurs' activities in Azerbaijan has been suspended for the period of two years from November 1, 2015. The exceptions from the law include check-ups which are held by State Commission to Combat Corruption under Prosecutor General's Office, as well as cases which endanger health or life, pose hazards to the state security or economic interests.
Azerbaijan increased non-oil exports by 30 percent in January-August 2017 compared to the same period of 2016.
Export of agricultural products increased by 37 percent, while export of industrial products increased by 25.4 percent.
Along with rising exports, the range of products delivered abroad is expanding – during the year, this figure rose by 16.6 percent.