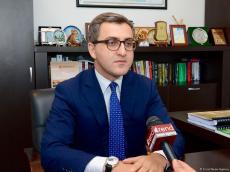 By Sara Israfilbayova
About 2 million manats ($1.17 million) has been returned to Azerbaijani exporters since early 2017, as a part of the mechanism for refunding part of the costs when exporting non-oil products.
Yusif Abdullayev, the vice-president of Azerbaijan Export and Investments Promotion Foundation (AZPROMO), said this mechanism has led to a significant expansion of the number of export-oriented producers, adding that as for 6 months results, exports increased by 36 percent, including non-oil exports - by 27 percent.
The state refunds 3-6 percent of the customs value of goods to non-oil exporters within the framework of mechanisms on promoting exports of non-oil products.
He said that exporters also receive applications for studying new markets, which will allow them to significantly expand the geography of Azerbaijani exports in the future.
"An increasing number of manufacturers are turning to us to study new markets, among which are both unconventional markets for Azerbaijan and completely new ones, for example, the number of applications for studying African market has recently increased," the Vice-President added.
Abdullayev also noted that within the promotion of the 'Made in Azerbaijan' brand, work is underway on creation of shelves with Azerbaijani products in Duty Free stores of airports of the neighboring countries, as in these countries Azerbaijani products are already known.
As of today, 92 trademarks of Azerbaijan are protected under the 'Made in Azerbaijan' brand, while the country's total outputs nears  250 kinds of products in food, light, heavy and construction industries. The brand is highly successful in regional and world markets, and Azerbaijan's local output meets all the necessary standards.
Azerbaijan has already sent export missions to Qatar (in February) and Kazakhstan (in April), as well as to Germany, Afghanistan and Pakistan, since the beginning of the year.
The Azerbaijani government encourages the business doing in the country and creates essential conditions to support entrepreneurs.
President Ilham Aliyev signed a decree on additional measures to encourage investment on January 18, 2016. The decree was signed to expand investment activities, improve business environment, increase industrial production, as well as create a mechanism and normative legal acts related to encouragement of investments, in accordance with the action plan for realization of the "2015-2020 State Program for Development of Industry in Azerbaijan."
Azerbaijan businessmen became eligible to get the investment incentives documents following the approval of amendments proposed to the Tax Code of the country.
Under the investment incentives document, half of the revenue of an individual entrepreneur, profits of legal entity are exempted from income tax for seven years. Import of equipment for the implementation of the projects is also exempt of VAT and customs duties.
The government plans to create the Agency of Small and Medium Enterprises and the Guarantee Credit Fund in 2017-2018. Similar agencies already operate in Europe, the UK, the USA, China, Singapore and other countries, stimulating the development of small and medium-sized businesses.