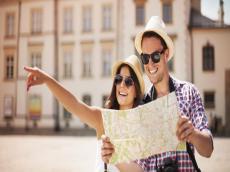 By Azernews
By Amina Nazarli
Azerbaijan was included in Top 5 for the number of tourists visiting Russia this year.
As many as 403,000 Azerbaijanis visited Russia in the six months of 2017.  
Ukraine leads the list of visitors coming to Russia. The northern neighbor hosted about 3.9 million Ukrainians. Then comes tourists from Kazakhstan, China and Finland.
Today, the Azerbaijani community is one of the largest Muslim communities in Russia. About 1.5 million of Azerbaijanis are living in Russia.

The most popular places of Azerbaijani tourists alongside Russia, is Turkey and Georgia.
Azerbaijan's tourism industry is growing rapidly year after year, and today Russian tourists make up more than 30 percent of the total number of tourists visiting the country.
Russians choose Azerbaijan as their travel destination for many reasons. First of all, the Land of Fire does not require visa for Russian tourists to enjoy the country.
The Land of Fire attracts Russian tourists due to affordable prices, developed infrastructure, beautiful weather, delicious food, the fact that many local residents speak Russian, etc.