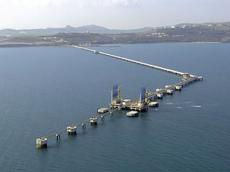 By Azernews
By Sara Israfilbayova
SOCAR exported 254,363 tons of oil through Novorossiysk port, 1,733,484 tons through Ceyhan port in August 2017.
The company reported that in January-August SOCAR totally exported 988,28 tons of oil through Novorossiysk port, 1,579,673 tons through Supsa and 11,400,551 tons through Ceyhan port.
Figures of crude oil exported by SOCAR reflect oil belonging to both Azerbaijani government and the company.
 SOCAR reported that it produced nearly 631,500 tons of crude oil in January-July of this year.
A total of 3,339,000 million tons of oil was produced in Azerbaijan in July. SOCAR reported that crude oil production was 4.34 billion tons in January-July of this year and in total 22.50 billion tons.
SOCAR is a wholly state-owned national oil company headquartered in Baku, Azerbaijan. The company produces oil and natural gas from onshore and offshore fields in the Azerbaijani section of the Caspian Sea.
The company includes such production associations as Azneft (the enterprises producing oil and gas onshore and offshore), Azerikimya (the chemical enterprises) and Azerigas (distributor of gas produced in the country), as well as oil and gas processing plants, service companies, and the facilities involved in geophysical and drilling operations.