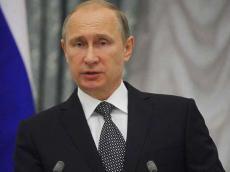 By Azernews
By Sara Israfilbayova
The first consignments of containers from Mumbai via Iran and Azerbaijan have already reached St. Petersburg and back.
Russian President Vladimir Putin made the remark during a press conference at the BRICS (Brazil, Russia, India, China, South Africa) summit in China. The next, the 9th in a row, BRICS summit was held on September 3-5 in Xiamen, China.
He went on to say that special departments and companies, including Chinese and partners from other countries are studying the Chinese megaproject - the new Silk Road.
The President added that there are different options for China:  to lay rail through Kazakhstan, and then go east and south to Iran, possibly through the territory of the Russian Federation.
"China plans to participate in the construction of the Moscow-Kazan high-speed railway. We discussed in Moscow, during the previous visit of the Chinese President, the possibility of building a high-speed passenger and freight railroad through Russia. If this project is carried out, it will make possible the movement of trains at a speed almost 200 kilometers per hour," Putin stressed.
Further he touched upon joint work on the Northern Sea, noting that all this fits into the common programs, there are no contradictions at all.
"We study and implement other routes, for example, North-South," the Russian President mentioned.
The International North–South Transport Corridor is a 7,200-km-long multi-mode network of ship, rail, and roadroute for moving freight between India, Russia, Iran, Europe and Central Asia.
The corridor is planned to transport 6 million tons of cargo per year at the initial stage and more than 10 million tons of cargo in the future.