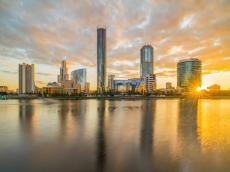 By Azernews
By Sara Israfilbayova
A national shopping center of Azerbaijan, Baku Plaza, will operate in Yekaterinburg, Russia.
Baku Plaza will welcome customers starting from September and provide a number of services. Ateliers, repairs and tailoring, dry cleaning, beauty salon and grocery stores will operate at the Center.
A special exhibition hall - "Carpets of Azerbaijan" to be opened on the first floor will familiarize Russian with world-famous carpets of Azerbaijan.
A total of 100 people will be employed at Baku Plaza.
Azerbaijan is one of the main economic partners of Russia among the CIS countries. Interregional cooperation plays an important role in the development of Russian-Azerbaijani trade and economic relations and the increase in trade turnover.
Enterprises of 71 regions of the Russian Federation cooperate directly with Azerbaijan. Roughly 15 regions of Russia have relevant agreements with Azerbaijan on trade and economic, scientific, technical and cultural cooperation.
The trade turnover between Russia and Azerbaijan amounted to almost $376.51 million in January-March 2017, according to Azerbaijan's State Customs Committee.
Moreover, Azerbaijan appointed its first trade representative abroad to Russia.
In January 2017, President Ilham Aliyev signed a decree "About appointment of trade representatives in embassies and consulates of the Republic".
Trade representatives' main mission is to take measures to expand Azerbaijan`s economic and trade relations with foreign countries, protect economic interests of Azerbaijan, increase export of Azerbaijani goods and services, promote Azerbaijan's business environment and investment opportunities.
Additionally, Azerbaijan seeks to open its second Trade House in Russia's Arkhangelsk region.
Azerbaijan's first Trade House was opened in the Belarusian capital Minsk, on May 26.