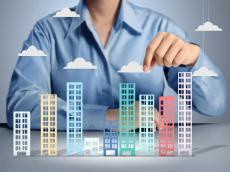 By Azernews
By Amina Nazarli
Prices in the real estate market of Baku experienced decrease in prices in July 2017.
Nusret Ibrahimov, General Director of the "MBA Group" consulting company told Trend that the drop of price in the secondary market was at the level of 4.29 percent in July, while - 2.55 percent throughout the year.
The primary housing market of the capital saw a 4.94-percent decline in July, although the market jumped up by 16.46 percent over the past year.
The expert added that the drop in the prices is temporary and is associated with the summer season.
Ibrahimov expected revival in the market starting from September.
In June 2017, prices in the real estate market of Baku decreased by 0.59 percent.
Ibrahimov earlier said that in 2017, the real estate market could grow by 10 percent, which can contribute to the gradual adaptation of the population to the current situation and the restoration of the activities of the Azerbaijan Mortgage Fund (AMF).
In Azerbaijan, there is no difference in the rights of foreigners and local citizens for buying a real estate. The foreign citizen, as well as the citizen of Azerbaijan can buy any property, except a land plot.
Prices in the market are mainly determined by location, quality of buildings and a number of other factors.