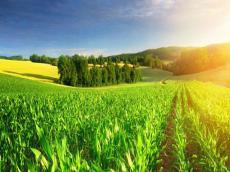 By Azernews
By Sara Israfilbayova
Subsidies worth 18.953 million manats ($11.143 million) will be allocated to 115,904 local agricultural producers.
The decision was made at a meeting of the republican commission of the Azerbaijani Agriculture Ministry. The subsidies were allocated for the purchase of fuel and motor oil, as well as wheat, seedlings for sowing 288 102.02 hectares of land plot.
The benefits provided for the purchase of fuel and motor oil are 50 manats ($29) per hectare, for sowing one hectare of wheat, rice, cotton and tobacco - 40 manats ($23).
Azerbaijan is keen to diversify its economy on the basis of further development of the non-oil sector and particular attention is paid to the development of agriculture.
Agricultural producers are exempted from paying all taxes (except tax for land), in accordance with the Law "On granting tax benefits to producers of agricultural products," adopted on November, 2001.
Since 2007, the state has been offering preferences for agricultural producers and entrepreneurs involved in agricultural sector, in order to provide comprehensive support to producers, which helps to create competitive environment.
The Strategic Road Maps, adopted in late 2016, also cover agriculture. Under the document, by 2020 it is planned to create about 20,000 new jobs and increase the country's GDP by 1.2 billion manats ($705 million).
Moreover, it is planned to establish an Agricultural Insurance Fund in 2018 within the framework of the implementation of the Strategic Road Map for the production and processing of agricultural products.
The possibility of creating an insurance fund to expand the coverage of agricultural insurance will be explored. It is planned to study an international experience in this field and prepare reports including an analysis of the potential impact of creating a fund on producer insurance and development of the agricultural sector as a whole.