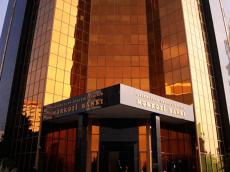 By Azernews
By Sara Israfilbayova
Demand for the deposit auction of the Central Bank of Azerbaijan (CBA) exceeded the offer by 6 times.
The Bank reported that it took 100 million manats ($58.7 million) from the local banks, whilst the demand was at the level of 600.6 million manats ($352.8 million).
The CBA has started holding deposit auctions since June 2016. During a deposit auction, held twice a week, the CBA accepts deposits from commercial banks for placement.
The main purpose of deposit auctions is sterilization of the money supply (withdrawal of money from the economy), which is carried out by the Central Bank in the framework of monetary policy.
The CBA has begun to conduct deposit and currency auctions through Bloomberg's auction platform since early July.
The Bank reported that the Bloomberg auction platform will be a single platform for these operations of the CBA.
The CBA said that designed to help central banks and financial ministries manage primary market operations, the technical capabilities of the platform has been recently further extended to facilitate transactions with foreign exchange instruments (spot and forward) and deposit auctions following the CBA request; originally the platform enabled to conduct transactions with securities and repo products.
The multilateral Bloomberg auction platform gives its participants the opportunity to watch the CBA auctions and take part in them, according to the Bank's message.
Currently, 31 banks are implementing their activities in the country, 2 of which are the state-owned ones.