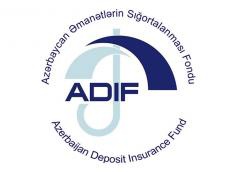 By Azernews
By Sara Israfilbayova
Azerbaijan Deposit Insurance Fund (ADIF) held the first auction on sell of property of the liquidated banks on July 10.
The auction put on sale two buildings and two armored cash collectors of Atrabank and furniture and various equipment of Royalbank.
The auction on the private house on the balance of Atrabank at the starting price of 2.363.250 manats (about $1.4 million) was declared invalid due to lack of buyers.
In addition, the Fund auctioned 473 units of furniture equipment on the balance of Royalbank OJSC at a starting price of 17.421 manats (about $10,200). This auction also did not take place because of the lack of those wishing to purchase furniture.
The Central Bank of Azerbaijan (CBA) revoked licenses of 11 banks in 2016 due to the discrepancy of their total capital with the minimum requirements [50 million manats-$29.4 million] and default to the creditors.
The total volume of assets of the closed banks exceeds several billion manats, and liabilities - 2.9 billion manats (over $1.7 billion).
Currently 31 banks are currently implementing their activities in the country.   

ADIF was founded on August 12, 2007 after the Law on Deposit Insurance was adopted by the Parliament [Milli Majlis] of Azerbaijan.
The purpose of establishing the Deposit Insurance Scheme is to prevent the risk of losing money deposited by individuals and to ensure the sustainability and development of the financial and banking system whenever banks and local branch offices of foreign banks become insolvent.
In accordance with the law "On Full Deposit Insurance", within three years the deposits of the population, the annual interest rate for which does not exceed the maximum level established by the ADIF Board of Trustees, will be insured, regardless of the amount of the deposit.