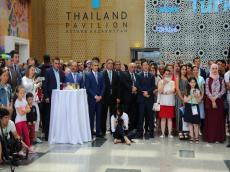 National Day was arranged in Azerbaijani pavilion at EXPO 2017 International Exhibition in Astana on July 9.
An official presentation ceremony of the Azerbaijani pavilion within the National Day was held, Azertac reported.
The national pavilion covers some 403.3 square meters. Operating under the motto of "The Land of Fire: energy, from past to future" it reflects such values as the history of Azerbaijan, culture, art, science, human capital, tradition of tolerance, modern economy, the Caspian Sea, the ancient Silk Road, Gobustan and etc.
The Pavilion of Azerbaijan was earlier ranked the fourth for number of visitors at the International Specialized Exhibition EXPO-2017 in Astana.
Expo 2017 is  running under the theme 'Future Energy'. This, along with the three subthemes – Reducing CO2 Emissions, Living Energy Efficiency, and Energy for All – allow the Expo to present the state of energy today and to showcase sustainable solutions and innovative technologies.
About 120 countries and 18 international organizations, major international corporations take part in the exhibition, visits of many heads of state are expected. Expo 2017 organizers expect over 5 million visits during the 93 days that it is open.