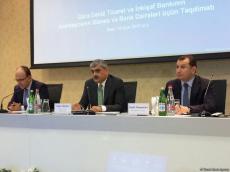 By Azernews
By Sara Israfilbayova
The Black Sea Trade and Development Bank (BSTDB) is interested in financing the Southern Gas Corridor (SGC) project, said BSTDB President Ihsan Ugur Delikanli.
He made the remarks at an event dedicated to presentation of the bank's opportunities for business and banking sector of Azerbaijan on June 13.
 "I hope that the Azerbaijani government and other partners will consider our participation in the SGC project and a positive decision will be made," said Ihsan Ugur Delikanli.
The SGC envisages the transportation of gas from the Caspian Sea region to the European countries through Georgia and Turkey.
At the initial stage, the gas to be produced as part of the Stage 2 of development of Azerbaijan's Shah Deniz field is considered as the main source for the Southern Gas Corridor project. Other sources can also connect to this project at a later stage.
As part of the Stage 2 of the Shah Deniz development, the gas will be exported to Turkey and European markets by expanding the South Caucasus Pipeline and the construction of Trans-Anatolian Natural Gas Pipeline (TANAP) and Trans-Adriatic Pipeline (TAP).
Delikanli further stressed that the BSTDB is interested in funding projects in Azerbaijan in manats.
Such funding can be implemented through the issuance of manat bonds by the bank, according to Delikanli.
He also noted that BSTDB offers medium- and short-term project funding, corporate loans, participation in companies' capital and various guarantees.
In turn, Azerbaijani Finance Minister Samir Sharifov noted that the BSTDB since the start of its operation has allocated loans worth €360 million to Azerbaijan's private sector
Azerbaijan's share in the bank's loan portfolio is 8.3 percent, according to Sharifov.
"Azerbaijan also participates in the bank's share capital, where the share of our participation is 5 percent. We are the seventh largest shareholder of the bank," he noted.
He went on to say that in total, the BSTDB has allocated loans worth $4.3 billion for projects in the countries of presence since the start of its activities.
The BSTDB is a multilateral development bank serving the 11 countries (Albania, Azerbaijan, Bulgaria, Georgia, Greece, Moldova, Armenia, Romania, Turkey, Ukraine and Russia) that are members of the Organization of the Black Sea Economic Cooperation (BSEC).
It supports economic development and regional cooperation by providing trade and project financing, guarantees, and equity for development projects. The Bank supports both public and private enterprises in its member countries and does not attach political conditionality to its financing.
Objectives of the bank include promoting regional trade links, cross country projects, foreign direct investment, supporting activities that contribute to sustainable development, with an emphasis on the generation of employment in the member countries, ensuring that each operation is economically and financially sound.
The BSTDB commenced its operational activities in June 1999.
The bank's authorized capital totals €3.45 billion. Until today, the BSTDB has allocated €360 million for implementation of 40 projects in Azerbaijan.