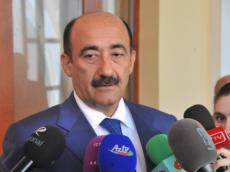 By Azernews
By Amina Nazarli
Summer is the great time to travel -- sunny weather, long days, and delicious cuisine has turned Azerbaijan into a powerful magnet for many tourists.
The tourism industry of Azerbaijan is ready for the opening of the summer season, which will begin on June 15 and last until September 15, according to Culture and Tourism Minister Abulfaz Garayev.  
The minister stressed that this year more guests will come to Azerbaijan, further specifying that this summer the growth of tourist flow from the Arab countries, Russia and Iran is expected.
Garayev further mentioned that 174,000 tourists arrived in Azerbaijan last May.
"This May 211,000 tourists arrived in Azerbaijan, and this is an increase of about 30 percent. If in the last five months of 2016, some 768,000 tourists arrived in the country, then this year their number reached 956,000, which means an increase of 200,000 tourists. This growth is directly related to the simplification of the visa regime, and we have opened our doors to about 90 countries," he said.
Garayev also stressed that for the period of hosting Formula 1 Grand Prix of Azerbaijan (on June 23-25), rooms in the major hotel networks of the country can be filled by 95 percent, adding that for the hotels have already received orders.
Talking about hostels, which remains an urgent topic for the country in connection with a large tourist influx and lack of budget accommodation, Garayev said that the corresponding order was issued in this regard.
The minister stressed that many people, especially young people, show interest in hostels. "People want to settle in the center of the city, in the places with normal conditions," he said, adding that the ministry is working on the issue.
Today, the country can accommodate about 40,000 tourists in its 535 hotels, which include a series of luxury hotels – Excelsior, Hilton, Four Seasons, Fairmont, JW Marriott, Kempinski – as well as several budget hotels for cost-conscious travelers. 
As many as 146 hotels are located in Baku and Absheron peninsula. Baku is also home to several hostels, budget hotels designed for low-cost travel. Here, of course, tourists have to share a room with a few more people, but prices are much more affordable. So far, 25 hostels and 92 apartments for tourists operate in Baku.
Bulks of the hotels located in the country are 5-3 stars, which sometimes creates inconvenience for low-budget tourists. Here you can see the price list of some of them. Prices for accommodation in the country start from $15 and increase depending on hotel brand and amenities.
Azerbaijan is the land where all paths meet, fully refuting disproving the old saying that, "West is West and East is East, and never the twain shall meet".
Tourists see here a clash of East meets West and find a lot to enjoy. Situated on the Great Silk Road, and divided partially between Eastern Europe and Western Asia, Azerbaijan blended the best from both cultures, forming its own unique rich culture, that's why its people are neither totally Eastern, nor totally Western.
 The shores of the Caspian, the Mugan, Karabakh, the Mil plains, the mountains, forests, rivers, springs, lakes, summer and winter recreation areas, historical monuments, modern museums and skyscrapers are headline tourist attractions in the country.
Those who prefer to go unbeaten path, to explore less visited places and check national charisma will undoubtedly have an interesting experience here. 
The government of Azerbaijan has made developing tourism a priority, while a number of tourist facilities have been built in the regions, and cultural and historical reserves have been set up or restored.