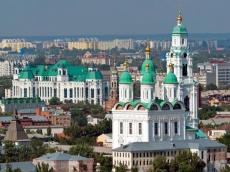 By Azernews
By Sara Israfilbayova
Azerbaijan Business Center, Iran Trading House and representation of the Union of Turkmen Industrialists and Entrepreneurs will appear in Astrakhan.
Governor of the Astrakhan Region of the Russian Federation Alexander Zhilkin announced about this at Russian Foreign Ministry's meeting in Astrakhan on issues of interaction with the countries of the Caspian region.
The meeting participants, including State Secretary and Deputy Minister of Foreign Affairs of Russia Grigory Karasin, Russian Ambassadors to Kazakhstan, Iran, Turkmenistan and Azerbaijan, noted that the Astrakhan region has been positioning itself for many years as the main conductor of Russian policy in the Caspian direction.
Zhilkin noted that the aggregate share of the trade turnover of the Astrakhan region with the countries of the Caspian region amounted to almost 70 percent in 2016.
"Recently, important investors from the Caspian countries have come to the region and started implementing huge investment projects in the fields of agriculture, industrial production, trade and logistics complexes," the governor said.
He cited as an example the creation of a poultry complex in Volodarsky district by Iranian investors, construction of an enterprise for the production of transformers by the Azerbaijani company ATEF-RUSS.
Azerbaijan is one of the main economic partners of Russia among the CIS countries. Interregional cooperation plays an important role in the development of Russian-Azerbaijani trade and economic relations and the increase in trade turnover.
At present, enterprises of 71 regions of the Russian Federation cooperate directly with Azerbaijan. 15 regions of Russia have relevant agreements with Azerbaijan on trade and economic, scientific, technical and cultural cooperation.
The trade turnover between Russia and Azerbaijan amounted to almost $2 billion in 2016.