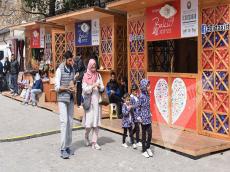 By Azernews
By Amina Nazarli
The Taxes Ministry of Azerbaijan returned 1.53 million manats ($907,000) as VAT to participants of the Baku Shopping Festival.

The Baku Shopping Festival was held in the capital from April 10 to May 10. During 30-day event, the festival participants purchased goods worth 15.47 million manats ($9.1 million).

The majority of buyers were citizens of Azerbaijan - 19,119 people, while the remaining 1,734 people are representatives of other countries.
During the same period, foreign tourists purchased goods worth almost 2.7 million manat ($1.6 million) from stores that joined the Tax Free system, but did not participate in the Baku Shopping Festival.
The VAT rate in Azerbaijan is 18 percent. During the festival, a buyer [Azerbaijani citizens or foreigners] had the VAT refunded at the banks in case the amount of the purchased goods exceeds 100 manats ($59) [including VAT]. For VAT refund services a commission of 20 percent of the refund amount was charged.

The first-ever Baku Shopping Festival aroused great interest in the country and entire region. During the Festival, which included shopping, entertainment, fashion and culture, many city malls offered special discounts, Tax Free, and temporary pop-up shops present a broad range of Azerbaijani and foreign brands.
The Shopping Festivals are being promoted as tourism products worldwide, thus attracting large number of tourists to the country.  Recent years have seen the shopping gaining greater significance in tourism, given its contribution to the retail and tourism sectors of a destination.