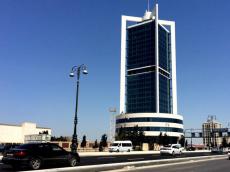 By Azernews
By Sara Israfilbayova
Revenues of the State Oil Fund of Azerbaijan (SOFAZ) from the project of development of the country's Azeri-Chirag-Gunashli (ACG) block of oil and gas fields totaled $124.07 billion from early 2001 to May 1, 2017.
SOFAZ said its revenues from the project totaled $1.96 billion in January-April 2017, some $340 million of which were received in April.
A contract for development of ACG block of oil and gas fields was signed in 1994. The ACG field, which lies 120km off the coast of Azerbaijan, is considered to be the largest oilfield in the Azerbaijan sector of the Caspian Sea. The proven oil reserves of the block amounts to approximately one billion tons.
Shareholders of the ACG development include BP with 35.8 percent, Chevron - 11.3 percent, Inpex - 11 percent, AzACG - 11.6 percent, Statoil - 8.55 percent, Exxon - 8 percent, TRAO- 6.75 percent, Itochu - 4.3 percent and ONGC - 2.7 percent.
SOFAZ was established under the Presidential Decree, dated December 29, 1999, "On Establishment of the State Oil Fund of the Republic of Azerbaijan". 
The main purpose of the establishment of the Fund was to preserve and multiply the income derived from oil, create an excellent economic base, taking into account social needs, the requirements of economic progress and development of the country. Besides, the challenge ahead is to protect the country's economy from possible negative influences caused by the growth of foreign exchange earnings and avoidance of damage to financial discipline.