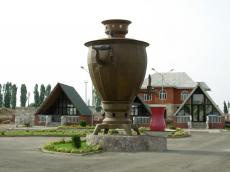 By Azernews
By Rashid Shirinov
Russia's Turstat analytical agency has determined the most popular holiday resorts in the CIS countries among Russian tourists for the summer of 2017.
Thus, the most popular resort destinations in the CIS countries include Borovoye (Kazakhstan), Issyk-Kul (Kyrgyzstan), Narach (Belarus) and Lankaran (Azerbaijan).
The rating is based on the analysis of the online booking systems of hotels.
Turstat noted that Russian tourists book their rest in Lankaran for some 7 days, as well as for 10 days at the Issyk-Kul lake, 8 days at the lake Narach, and 12 days in Borovoye.
Travel budget for vacation in Lankaran will make an average of $70 a day. The resort is mostly visited by Russian tourists from Moscow, St. Petersburg and Moscow Oblast.
Lankaran is known as a sub-tropical area, with extremely picturesque scenery, and rich flora and fauna.  Clean air and beautiful nature combined with an abundance of attractions and the hospitality of the local people are that overwhelming factor which annually attracts tourists from all over the world.
The majestic Talish Mountains covered with thick forests, the main part of which constitute native species, including demiragaj (iron tree), is one of the most visited places here.
Lankaran is also one of the brightest and most beautiful cities in the country. Exquisite architecture, a wonderful climate and beautiful natural landscapes are the hallmarks of this city.
Lankaran includes three tourist zones such as the coastal (Caspian Sea), the Haftoni and Narimanabad zones.