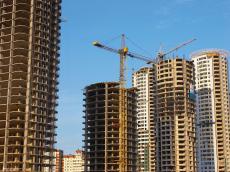 By Azernews
By Sara Israfilbayova
The State Housing Construction Agency (MIDA) will begin registration of persons wishing to purchase preferential housing in the coming days.
Chairman of the State Agency Samir Nuriyev reminded that the registration of persons, who have the right to purchase housing on preferential terms, and the sale of this housing, will be carried out electronically, and the process of creating an electronic system has already been completed.
"The system will soon be available on the Electronic government portal (e-gov.az).Along with this, ASAN Centers ? 1, 2, 3 in Baku and in Sumgait will be connected to the process. In the next few days, the position of the electronic system will be approved. A few days after the approval of the regulations, the acceptance of documents and creation of electronic offices will begin, "Nuriyev said.
The State Agency for Housing Construction under the President of Azerbaijan was established on April 11, 2016. Currently, the agency is constructing a residential complex for a privileged category of the population in the Yasamal district of Baku, the construction of which will be completed in the middle of next year.
The key objective is to meet the demand of people for housing, to improve their living conditions, to provide construction in modern architectural style that meet environmental requirements and energy efficiency requirements, as well as to improve public administration in the field of urban development and construction.
Subsidized housing is expected to become the best solution for the citizens with low or moderate incomes. Additionally, after this process gets a massive scale, it will have a positive impact on the sectors of construction and production of building materials, eventually contributing to our overall industrial potential.
The complex in Yasamal will consist of 29 multi-apartment buildings. A number of social facilities will be built in the complex, including a 240-seat kindergarten and a 960-seat secondary school. The opening of this first project is scheduled for 2018.
The second project on construction of social houses will also be implemented in the capital city. Within the second project, houses are planned to be constructed in Surakhani district, near Hovsan settlement and cover an area of some 20 hectares.