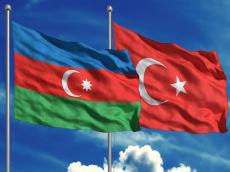 By Azernews
By Sara Israfilbayova
Turkey, which has always taken leading positions among the foreign trade partners of Azerbaijan, is ready to increase the volume of investments in the agricultural sphere of Azerbaijan.
Azerbaijan's Agriculture Minister Heydar Asadov said that there is a great potential for investments of Turkish entrepreneurs in the country's agricultural sector.
Asadov, in an interview with Is Dunyamiz magazine, noted that the Executive Committee on Agriculture, created by Turkey and Azerbaijan, had recently discussed the possibility for entrepreneurs of both countries to jointly invest in third countries.
"For example, Turkish entrepreneurs can help export Azerbaijani products to the countries of Europe and the Middle East, in turn, our businessmen can help Turkish businessmen in delivering their goods to the post-Soviet space.  Furthermore, I want to note that currently Azerbaijan and Turkey are discussing specific proposals on the introduction of customs privileges for mutual trade in food and agricultural products," the minister added.
Asadov went on to say that it would also be expedient for Turkish and Azerbaijani entrepreneurs to create joint ventures, expand import-export operations and cooperate in the field of agro-products supply.
Turkey was the first state to recognize Azerbaijan's independence in 1991 and has been a staunch supporter of Azerbaijan in its efforts to consolidate its independence, preserve its territorial integrity and realize its economic potential arising from the rich natural resources of the Caspian Sea.
The contractual base of bilateral Turkish-Azerbaijani trade and economic relations includes more than 40 documents aimed at expanding economic cooperation between states.
Trade turnover between Azerbaijan and Turkey amounted to almost $553 million in the first quarter of 2017, $308.7 million of which was exported to this country, according to Azerbaijan's State Customs Committee. During the year, the trade turnover between Azerbaijan and Turkey grew 2.15 times.