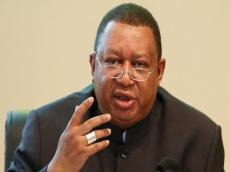 By Azernews
By Gunay Camal
All oil producers taking part in a supply-cut pact are committed to bringing global inventories down to the industry's five year average and restoring stability to the market.
OPEC Secretary-General Mohammad Barkindo announced about this while speaking in the United Arab Emirates, Reuters reported on April 19.
He said compliance data in March is showing better conformity by the oil producers with the agreement than in February.
OPEC and non-OPEC producers agreed in December 2016 to cut supplies for six months, helping lift oil prices to about $55 a barrel after a two-year slump. OPEC will review policy for the second half of this year at a May 25 meeting.
As of February 2017, the OPEC and participating non-OPEC countries achieved a conformity level of 94 percent, an increase of 8 percentage points over the January 2017 performance.
Barkindo would not say whether the agreement will be extended for another six months, but that any decision taken would be in the interest of all producing and consuming countries.
Earlier a number of oil nations, including Kuwait and Azerbaijan, voiced support to possible extension of the oil deal, noting that the extension will 'accelerate the rebalancing of the global oil market.
Meanwhile, on NYMEX (New York Mercantile Exchange) cost of the US light crude oil decreased $0.11 to stand at $52.30. Price of the Brent crude oil at the London ICE (Intercontinental Exchange Futures) fell $0.16 to trade at $54.73.
The price of a barrel of Azeri Light crude oil decreased $0. 86 to stand at $55.58 on the world markets.