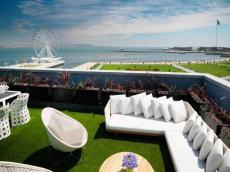 By Azernews
By Amina Nazarli
After elimination of the license for tourist activity, the Culture and Tourism Ministry has initiated a new plan to control hotels and tourism companies.
Aydin Ismiyev, Head of the Tourism Department at the Culture and Tourism Ministry, told Trend that currently tourism companies do not need a license to begin their business.
He said that two years ago Azerbaijan had 260 tourism companies, while after the presidential decree their number exceeded 400.

"We learn about creation of new companies through various agencies and tax authorities. That's why the government should monitor them in somehow," he added.

Ismiyev offered to establish the State Tourism Register to control these companies, noting that such agencies were opened in many countries.

"Tourism companies, hotels and guides of these countries should register in this Tourism Register. We can also apply this experience in Azerbaijan," he said.
Tourism is a large industry worldwide and a major sector in economy of many countries. Tourism management, accordingly, is an important feature directly impacting the tourist flow into a country. Good tourism management can provide a strong impetus to attract foreign tourists to any country.
Today tourism is developing with high speed in Azerbaijan, with a contribution of 4.5 percent to the national GDP. The country witnesses arrival of more than 2 million foreign tourists and visits of thousands of domestic tourism a year. 
In 2016, the number of tourists visiting the Land of Fire amounted to 2,242 million people and this is 11.7 percent more than in 2015.
The majority of tourists came from Russia, Georgia, Turkey and Iran making up 33 percent, 22.5 percent, 13.9 percent and 10.9 percent, respectively.