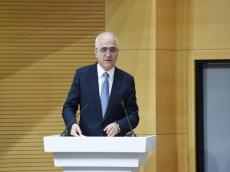 By Azernews
By Kamila Aliyeva
By 2025 the volume of Azerbaijan's non-oil export per capita can be increased up to $450 at least, which is more than threefold growth.
The statement was made by Economy Minister Shahin Mustafayev at a republican meeting of non-oil exporters held in Yevlakh on April 17.
"Undoubtedly, for successful fulfillment of this task, the country's economy must have a strong and competitive non-oil sector," Mustafayev said.
The minister reminded that with a view to expand the potential of non-oil industry and agriculture, including hazelnut, viticulture and winemaking, tobacco growing, cotton growing, silkworm breeding, tourism and transit potential, and to develop other sectors, legislation and  business-investment environment has been improved, while various mechanisms of the state support are being implemented.
Mustafayev mentioned that the Aran Regional Development Center, where the business incubator, exhibition and training halls were created, is a clear example of the support and attention provided by the Azerbaijani President to entrepreneurs.
"The creation of 51 logistics centers, 23 grain storage facilities, 16 fruit and vegetable processing enterprises, 20 large farms, 23 modern cattle farms, 56 greenhouses, 16 viticulture, 23 fish and 39 poultry farms, 10 milk processing enterprises, a multiple expansion of the greenhouse areas in recent years, only through concessional loans issued by the National Fund for Entrepreneurship Support, make a great contribution to increasing exports in the agricultural sector," the minister said.
The launch of modern enterprises in industrial parks and zones, investments in the amount of 1.2 billion manat, which will be invested in the framework of 130 documents on investment promotion, 32 agro-industrial parks being created in 24 regions of the country, as well as 12 cattle-breeding complexes, 20 large plant-growing farms and other works to be realized in the coming years will increase the production and export potential of the non-oil sector, according to Mustafayev.
Besides, to support production and expand the export potential, specific duties for two years were introduced for the import of 84 products, which have a high level of self-sufficiency and local production potential, he noted.  
The minister said that this is a great support for local production of goods with a high level of self- sufficiency. Thus, in the first quarter of this year, the total volume of imports fell by 17 percent, while non-oil imports – by 20 percent, according to the minister.
"The decrease in imports for some types of goods, on which specific duties are applied, was significant. In particular, the import of cement and clinker decreased by 92 percent, tiles and ceramic tiles – by 55 percent, drywall – by 49 percent, hazelnuts – by 58 percent, tomatoes – by 49 percent, pears – by 37 percent, apples – by 33 percent, while the import of eggs and onions, we can say, is practically suspended," Mustafayev said.
The minister said that the list of goods for which specific duties is applied, will be expanded to further increase self-sufficiency.
In the first quarter of 2017, the non-oil sector of economy grew by 2.4 percent. The trade turnover increased by 15 percent, exports saw a nearly 50 percent growth and imports fell by 17 percent.  The exports of agricultural products increased by 44 percent.
Development of the non-oil sector is a priority area in Azerbaijan. The government efforts to stimulate non-oil exports, in particular through its 'Made in Azerbaijan' promotion, are expected to catalyze growth in agriculture.