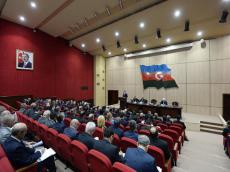 By Azernews
By Kamila Aliyeva
In an effort to improve the business environment, Azerbaijan pays a great deal of attention to privatization aimed at promoting the activation of state enterprises, which in turn, will help to create new jobs.
Azerbaijan's State Committee on Property has sent invitations to 500 foreign companies, investment banks and pension funds to participate in the process of privatization of state-owned enterprises in the country, Kerem Hasanov, the chairman of the department, said at an expanded meeting dedicated to the results of the first quarter of 2017 and future tasks.
In the first quarter of this year, nearly 250 state-owned enterprises, including small enterprises, joint-stock companies, vehicles, as well as 63 non-residential and land plots, were privatized, he stressed.
The head of the State Committee on Property stressed the need to speed up work to attract investors to privatize state-owned enterprises in regions that have the potential and can contribute to the country's socio-economic development.
In his speech, Hasanov recalled that the State Committee launched a special website dedicated to privatization. In January-March 2017, almost 200,000 people used it, and almost 600,000 people used the website since its launch.
The third stage of privatization in Azerbaijan started in the framework of the presidential decree dated May 19, 2016. Under the decree, the acceleration of the state property privatization process has been defined as an important direction of the economic policy.
The portal for privatization – privatization.az, launched in July 2016, reflects all necessary information about the facilities, their addresses, location, and even initial cost and aims at facilitation of the process. The website is available in two languages - Azerbaijani and English. "Why Azerbaijan is special" section available on the website explains the reasons and advantages of investing in the country.
The privatization process is designed to attract both foreign and local investors, as well as improve the business environment of Azerbaijan.