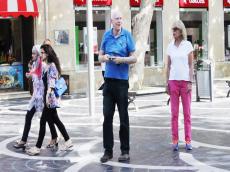 By Azernews
By Amina Nazarli
Azerbaijan, enjoying traditional culture and amazing nature, as well as plenty of interesting things you'll never see elsewhere, has already turned into a popular destination for people traveling abroad.
Tourists visiting Azerbaijan tend to be interested in every sphere – from historical and cultural sightseeing to leisure, and seek to explore less visited places and check national charisma. Since the tourist flow grows, the number of guides, who are ready to show the country in all its glory, also increases.
Today more than 150 certified guides operate in Azerbaijan, says Nahid Bagirov, Azerbaijan Tourism Association (AzTa) Chairman.
These guides were trained at the courses organized by the Baku Excursion Bureau and the Azerbaijan University of Tourism and Management.
Bagirov noted that hotels and travel companies are recommended to work with certified guides.
"Today, unfortunately, there are certified and non-certified guides in the sector. We are sending letters of recommendation to hotels and travel companies and recommend them not to work with non-certified guides. Unfortunately, guides without certificates contact tourists directly around Icherisheher and in other territories and conclude a deal with them," he said.
The fee for service of the certified guides is around 15-20 manats ($9-$12) per hour, while non-certified guides take 5-7 manats ($3-$4.2) per hour, which attracts tourists, according to Bagirov.
"The problem is that today we do not have the opportunity to control the uncertified guides," he said.
In 2016, the number of tourists visiting the Land of Fire amounted to 2,242 million people and this is 11.7 percent more than in 2015.
With its towering Caucasus ranges, fertile valleys, thick forests and its beautiful Caspian Sea coast, Azerbaijan is home to a remarkable natural diversity. Huge part of Azerbaijan's territory is preserved as national parks and reserves, ranging from desert to highlands, to rolling fertile valleys, and marshlands. These landscapes offer a range of unusual flora and fauna, including ancient mountain villages.
There are ample of things to do in Azerbaijan, be it exploring the country on a horse back or simply savoring the delicious cuisine. The country offers something for every traveler. History lovers can see Gala Fortress, Gobustan, Icherisheher, etc. Adventure seekers can indulge in hiking, horse-riding hunting, etc in Guba, Shamakhi, Lankaran and other regions, or check out the nightlife of Baku.
In addition to the natural and rural attractions, Azerbaijan has a rich cuisine, changing from region to region. 'Tasting' Azerbaijan means enjoying juicy apples, pomegranates, grilled meats, kabab, dolma, bozbash, all perfumed with the herbs of untouched woodlands and the spices of the Silk Road.