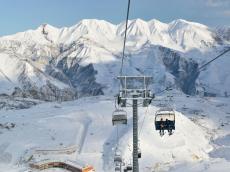 By Azernews
By Amina Nazarli
When it comes to skiing holidays, you might think that March is not the best month to hit the slopes. However, this is not as impossible as you think.
Shahdag doesn't just have a high altitude on its side but great snow-making facilities too, so even if it is not snowing, you can rest assured there'll be plenty of the white stuff at Azerbaijan's most popular ski resort - it might just come from one of the hi-tech snow cannons.
Among many skiing destinations, Azerbaijan just recently appeared on the map, but has already managed to become famous and loved by many.
Heavy and fluffy snow in Azerbaijan this year contributed to raising tourist flow into the country. So, Shahdag, the most attractive spot for the local and foreign tourists in Azerbaijan during the winter season, became the main directions for skiing vacations.
Shahdag has recently been named the fifth most popular ski resort in spring.
The hotel search service RoomGuru.ru has determined the resorts, popular for ski holidays with children and snowboarding in spring. The ranking was compiled in accordance with the booking of hotels for holiday with children from March 25 to 31. 
RoomGuru said that in Shahdag, tourists will spend an average of $ 165 a day for hotel accommodation, meals and ski passes.
Shahdag was opened in January 2013 and in 30 km from the town of Gusar. It stands 2,500 meters above sea level and serves as an outstanding getaway with its rich nature, fresh air, and wonderful climate. The temperatures at Shahdag ranges from winter lows of -20°C to pleasant summer evenings of 20°C.
The complexes repeatedly entered different rankings for tourists. So, since 2013, Shahdag has been visited by over 310,000 tourists and the highest peak was reached last year.

The majority of visitors were from the UAE, followed by Russia. For example, in 2015 only 26 tourists visited Shahdag Hotel, while a year later the number of travelers from this country increased to 3,081 people, according to Moscow-Baku publication. From Russia the hotel welcomed 240 tourists in 2015 and 2016 their number reached 1,636.