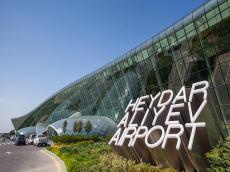 By Azernews
By Amina Nazarli
ASAN Service, State Agency for Public Service and Social Innovations, has launched a free wireless Internet service -- ASAN Wi-Fi at the Heydar Aliyev International Airport.
ASAN Wi-Fi network serves tens of thousands of users every day. For the first time, the ASAN Wi-Fi service was launched in the pilot mode at the ASAN Service Centers No.1 and No.3. To date, the number of connections to a free Wi-Fi network has reached 200,000.
In the near future the service will be expanded in other centers of ASAN Service, as well as deployed in various public places, which will allow a wide range of users to get free access to the Internet.
ASAN Wi-Fi will also be used to inform people about state and social projects implemented in the country, as well as distribution of advertising campaigns of various companies.
ASAN Service center was created by the presidential decree in 2012. The Service which already has 11 centers across the country provides venues for state agencies to render their services in a uniformed and coordinated manner.
The Service could reduce extra expenses and loss of time for many citizens, upgrade the level of professionalism, ensure a larger use of electronic services and increase transparency and strengthen the fight against corruption.